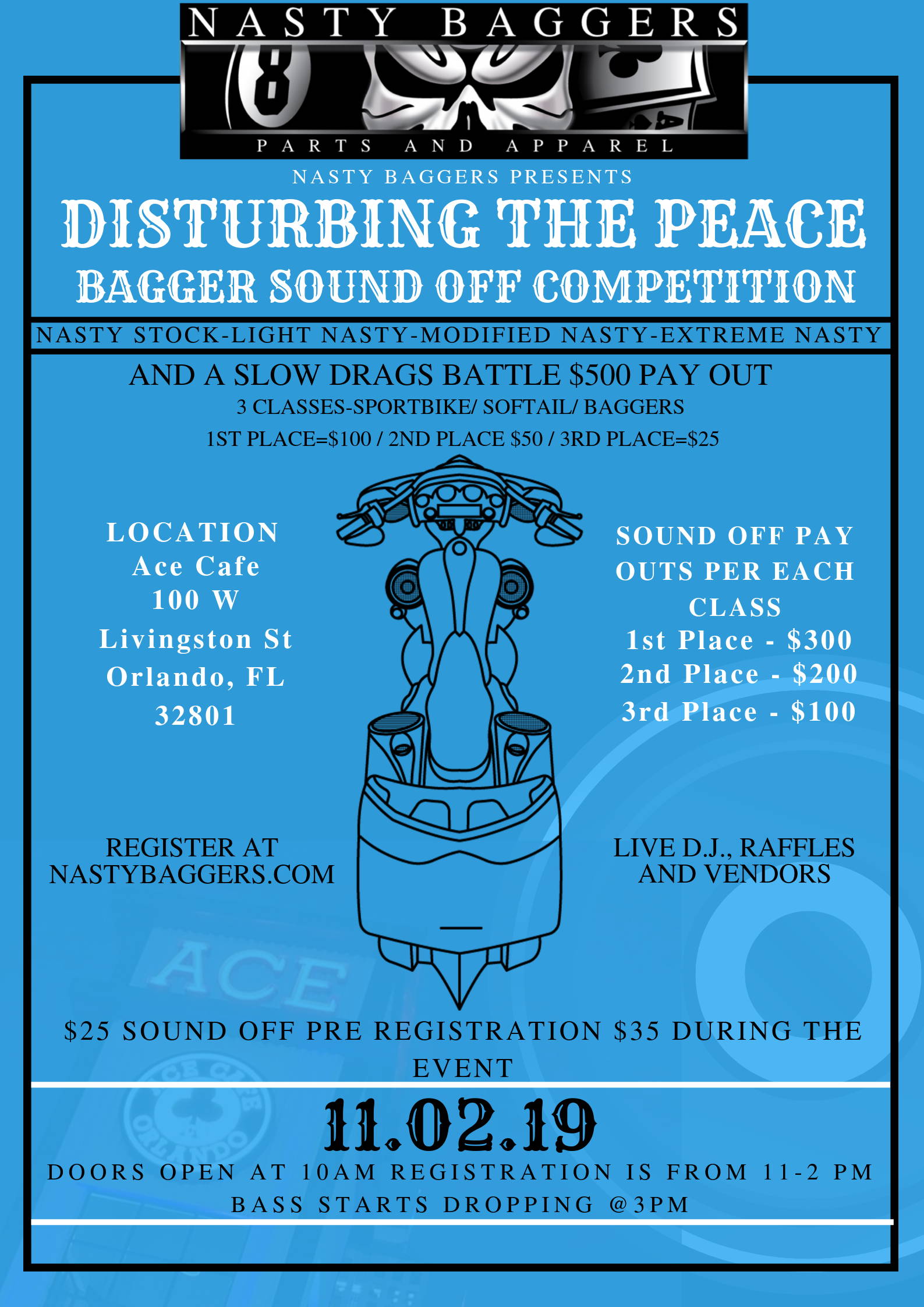 WHEN:
Saturday November 2nd, 2019
WHERE:
Ace Cafe
100 W Livingston St.
Orlando, FL 32801
DESCRIPTION:
CALLING ALL NASTY BAGGERS! Don't miss the hottest event of the fall. Presenting the Disturbing the Peace Bagger Sound Off Event. On Saturday November 2nd, 2019 we are hosting a mega sound off competition, as well as a slow drags battle. You won't want to miss this, all are welcome! To participate check out the rules and regulations below and click register now to save your spot in the competition.
See Bagger Sound Off Rules & Regulations
See Slow Drags Battle Rules & Regulations

REGISTRATION FEE:
Bagger Sound Off - $25 pre-register, $35 day of registration

Slow Drags Battle - $10 pre-register, $15 day of registration
BAGGER SOUND OFF RULES & REGULATIONS
Classes
NASTY STOCK CLASS-


Up to 6 speakers. No speaker larger than 8" Mid Bass. No sub woofers. No saddle bag modifications. All speakers must be located in stock locations. Modified speaker lids, lowers, and interfering's are the only locations permitted.

LIGHT NASTY CLASS-


Up to 10 speakers. Nothing larger than a 10" mid bass. No sub-woofers. Bags can be sealed and/or ported. No more than 1-10" mid bass allowed inside of each saddle bag.

MODIFIED NASTY CLASS-


Up to 14 speakers. No more than 4-8" sub-woofers or 2-10" sub-woofers. Nothing larger the a 12" mid bass is permitted in bags. Competitor is only permitted to have 1-12" mid bass in each bag.

EXTREME NASTY CLASS-


No speaker or size limit. Saddle bag lids, bags, and/or tour pack are permitted to be altered beyond manufacturers specks.
Additional Rules
Horns will not be counted. Example of horns allowed ( ST25, ST35, DX35, DDB3, SQL60 )

Compression drivers will be counted if they are mounted separate from the driver. Coaxial speakers with compression drivers mounted to then will be counted as one speaker.

We reserve the right to inspect any bike discreetly for class compliance's at our discretion any time prior to or after the competitor has competed during the event if necessary.

If bike clips at any time during competition inside the ring bike will be disqualified.

Bike must be able to start and drive out of ring after competing.

If competitor experiences any technical issues you will have 60 seconds to resolve those issues. If it cannot be resolved it will be automatic disqualification.

Contestants will have 1 minute each to play as many songs as desired in that time frame.

If there is a tie… contestants must choose one of 10 songs that will be available to you on spotify. We will also type out the list for you so you may download them else where if you do not have spotify.

Competitors and judges will be the only ones permitted in the ring during competition.



Judging & Points
Judging will be comprised of at least 3 judges. Point system will consist of 1-5 points for each category.
Categories will consist of:
Volume control (1-5)

Balance stage (1-5)

Clarity (1-5)

Highs (1-5)

Mids (1-5)

Bass (1-5)
Max score is 30 points x 3 judges = 90 points max
if you have any questions please email custom@nastybaggers.com
Pre-paid competitors can bring a 10x10 tent for storage and cover. We have 30 spots available, first come first serve. Alcohol, food, and beverages cannot be brought to Ace Cafe's premises. These items will be for sale and this will be strictly enforced.
SLOW DRAGS BATTLE RULES & REGULATIONS
These rules are simple and easy folks
They are your standard slow drag rules you and a participating competitor will start at the starting line and you'll travel down a two lane path. The slowest person to reach the finish line wins the round.
Once you leave the starting line you will not be allowed to stop, stall, touch the ground, or hinder the riders path next to you. This will result in disqualification.
You will get one pass and the winner of each round will move into the winners bracket and will continue until the last two competitors are standing.
Remember you have the opportunity for cash prizes for first, second, and third place.